It may come as a surprise, but until my last trip to Limpopo I had never stayed alone in the bush before. There are few reasons for this.
Firstly, whilst I work in the bush I very sadly, don't live there permanently. So when I come in to take over the kitchen I am normally surrounded by the people I am there to cook for. Even though I usually arrive the day before the clients come in, there is usually a camp manager or outfitter in camp as well.
Coming in a day early lets me prep things such as this Homemade Ricotta.
Secondly, whilst I was raised to be a strong, independent woman who can do anything. My parents literally used to say "if a man can do it, you can probably do it better." And, bless the hearts of my school teachers who repeated feminist slogans such as this one coined by Irina Dunn, "a woman needs a man like a fish bicycle." That being said, I was still raised with a sense of fear surrounding being alone.
Paradoxical as this may seem. I'm sure a lot of ladies out there can understand this. We were raised to believe that we must be independent, but that there is danger in being alone. So whilst we don't need no man. We do however need a group for safety. Hence, until I began my bush chef life I never really traveled alone.
Now that I have been traveling alone, I have found incredible freedom in it. I have also realized that if you are smart about life, you have nothing to fear when traveling alone. Nothing proved this more to me than the nights I got alone in bush.
The week building up to the first night was filled with my folks expressing how unhappy they were about me being alone, even though it was for one night. My siblings offering to change their plans, take days off work, drive three hours (one way) to be there with me. Saying I should phone friends on a nearby farm, and go stay there. The idea of me being alone in the bush for one night, even though the farm manager and his wife are less than 10 kilometers from the lodge; was a point of mass concern. Now, I love how much my family care, and were worried about me. But their reaction caused me to have a lot of anxiety. Which kind of pee'd all over my parade the first night I was alone.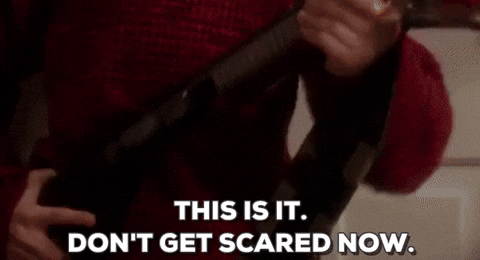 I watched the sun go down then proceeded to lock myself in the lodge - as I was worried about people not the animals. This lasted for about an hour than I felt ridiculous. I was letting fear rule me. F**K that.
So I opened the door, ate dinner outside with a view. Listened to the sounds of the bush while reading my book on the veranda. In short had a stunning relaxing time. The next morning I got up, went for a run (alone in the BUSH! Alert the village elders). After which I was able to welcome the clients, and start their safari in a relaxed, happy state of being.
The Hippo's and I shared a running route.
With the first alone night in the bush being so successful. When my second night alone came up (there was a night off between groups - I know, I'm super lucky) I was actually excited for it. Once I had finished all my prep for the incoming group. I did a workout, had a swim - I never get to do that ever, and even bigger treat! I took myself on a game drive. After I proceeded to cook myself dinner, while singing loudly and dancing badly. Ate by the fire. And again read my book in the blissful silence of the bush.
In a nutshell I was perfectly fine. Tips to stay safe though:
Don't go running or walking in the bush if the area has the big five. You might be eaten, or trampled.

Do lock your doors at night, or when out/ using the shower.

If driving through the bush get an area map if available - most big reserves have them. Or you can use a route tracking app. I use: GPS Kit available in iOS, and Android.

Be vigilant.

Take self-defense classes if you can. Here's a link to a great gym that offers classes: https://www.primalgym.info/
Go forth my lovelies and be free.
With Love,
The Gourmet Hippo